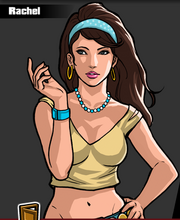 Rachel is the daughter of Mickey, the owner of Sticky's Bar. She helps in giving you missions.
"I heard the Romanos took an interest in you. Just... be careful."
"Hey, your cousins' here, Angel I think he said his name was?"
"He's been looking for you."
"If you've got a death wish feel free to go work for the Romanos."